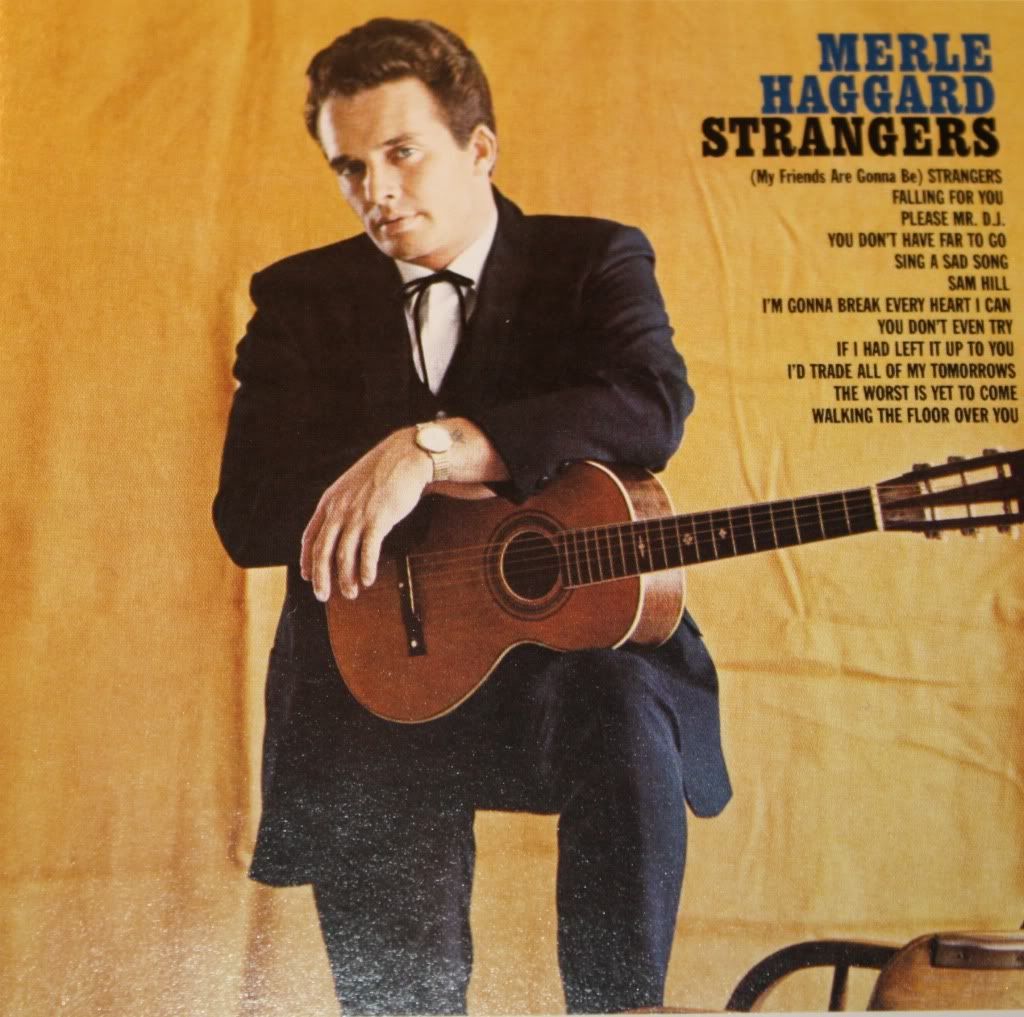 Take a look at Merle Haggard on 1965's
Strangers
: even with that silly tie and leaning on that tiny guitar, he already knows he's a badass. As might be expected, though, the full flower of Merle's greatness hasn't quite bloomed on this, his debut. To my ears the reason is a combination of production/style and material. It's pretty clear that Merle's being pitched as more of a crooner, with an emphasis on ballads and smooth melodies--too often the arrangements include big string arrangements and Nashville Patsy Cline-style backup singers, and the amount of reverb would suggest that Merle was performing inside a cave. In retrospect it's easy to criticize the production choices, but it's worth mentioning that the more muscular Bakersfield brand of country that became Merle's signature was still in its very early stages in 1965--though
Together Again/My Heart Skips A Beat
had already been released in '64, there wasn't much precedent for the Bakersfield lightning bolt Haggard was about to call down in 1966's
Swinging Doors and The Bottle Let Me Down
.
So, that brings us to the material. There are a handful of good-to-very-good songs, my favorites being "I'm Gonna Break Every Heart I Can" (or my name ain't Merle), the ridiculously awesome vocal on "Sing A Sad Song" (probably the only place where the crooner image actually fits), the title track, and "You Don't Have Very Far To Go" (for some reason Merle's recorded this song on at least three studio albums; my favorite version is on
Branded Man
). Oh yeah, we also get a dynamite song title--"The Worst is Yet to Come." There are a few bombs, too, like the novelty tune "Sam Hill," and a few bland ballads like "Falling for You" and "You Don't Even Try." Merle's signature writing style was on its way to fulfillment, but he's only got writing credit on half of the songs, and it's pretty clear he didn't pick all of the covers (a glance at later albums' writing credits reveals that Merle had
really
good taste in filler; that's why the albums are so good). Instead of a classic Hag album, we get a soft launch;
Strangers
is a pleasant enough listen but I'm always left thirsting for a little more energy or a little bit better writing. Thankfully the next nine albums of originals deliver better on both counts every single time.
Get it here in CD or MP3
, along with the immortal
Swinging Doors and The Bottle Let Me Down
.