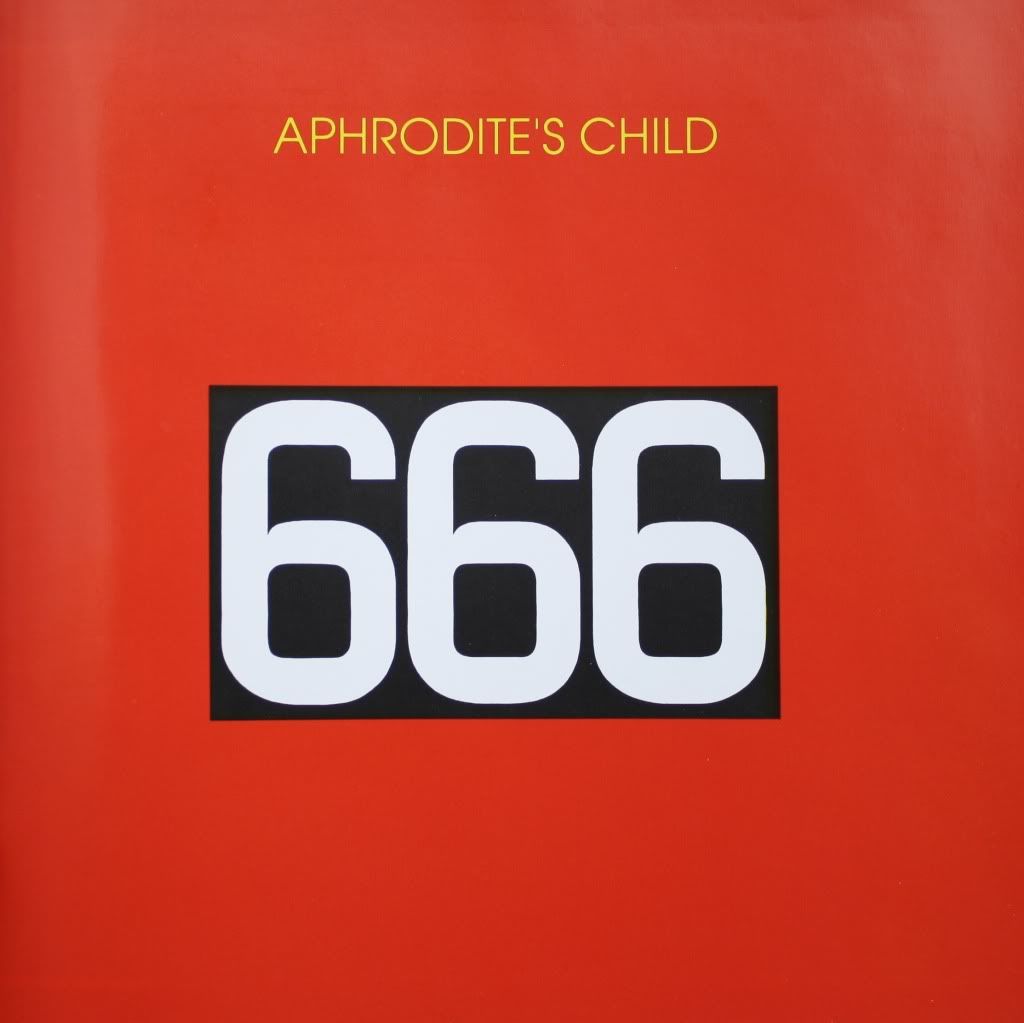 You probably wouldn't guess it from listening to this epic 1972 concept album, but Greek ex-patriate group Aphrodite's Child was actually a pretty standard rock quartet featuring drums, bass, guitar and keyboards. Of course, the group was led by Vangelis Papathanassiou (later to achieve worldwide notoriety as the soundtrack composer for films like
Chariots of Fire
and
Blade Runner
), so its leader's vision demanded substantial studio augmentation, and the end results take on quite a bit of theatricality and an operatic expansiveness thanks to a wealth of different instruments, production techniques and vocal contributions from a number of non-band-members. Without getting too far into
the band's history
, I'll say that this undeniably ambitious project took the group far outside their pop-oriented roots into the realm of long-form rock music narrative, touching upon psychedelic rock, European folk melodies and instrumentation, avant-garde performance art and studio composition, and lightly (if mostly in its weird and eclectic spirit, if not compositionally) upon progressive rock.
Despite the fact that it's credited to Aphrodite's Child,
666
is a creative collaboration between Vangelis Papathanassiou and lyricist Costas Ferris and is an attempt to adapt the New Testament's Book of Revelation to a musical setting. Though it's a concept album, there isn't really a plot or discernible narrative, not to mention an overtly Christian message (thankfully). Instead, the combination of music and words evokes a dramatic conflict focusing on characters the Lamb and the Beast, and using familiar elements like the Four Horsemen of the Apocalypse, the number seven, as well as significant number of references to the social unrest that typified the late 60's and early 70's. In many ways, I find
666
to be a remarkable and successful piece of work--the music covers quite a lot of ground, from the band's pop origins (on the catchy, horn-backed, Beatle-esque "
Babylon
" and "Hic and Nunc," "The Beast," and valedictory ballad "Break") to a significantly harder brand of psychedelic rock. This second style is exemplified both in traditional song form on one of the album's best songs, "
The Four Horsemen
," which alternates between atmospheric folk sections and pounding invocations of the different horsemen and their visages, ably cried out by bassist/vocalist Demis Roussos. Similarly trippy is the instrumental/spoken word song "
Aegian Sea
," which features heavily-reverbed guitar and vocal arrangements reminiscent of both early- and mid-70's Pink Floyd both melodically and in overall sound, and especially in Silver Koulouris' guitar sound.
The band also capably handles shorter heavy rock instrumentals like "The Battle of the Locusts" and "Do It," as well of some of the album's most interesting fusions of psychedelic rock and Mediterranean folk music in the driving furiousness of "
The Lamb
," "Seven Bowls," "The Wakening Beast," "Lament" "The Marching Beast." This fusion is one of the most distinctive things about Aphrodite's Child's sound; despite the album's scope and the quality of the playing, much of the instrumental palette sounds pretty familiar in that 70's sort of way, so some more ethnic sounds freshen up the more orthodox sounds. One of my favorite of these moments comes on "
Altamont
," where the band whips up a hpnotic piano/horn/vibraphone/wordless vocal riff that presages the similar sound and
ad nauseum
repetition that Christian Vander and Magma would doggedly pursue in the next few years as they created Zeuhl. The track evokes the
real-world incident
it's named after and builds to an effective spoken word climax that's one of the most humanity-affirming moments on the album. In spite of Vangelis' varied capabilities as a composer, the musicians occasionally fail to communicate a sense of individual identity on their instruments--that magic element that can elevate more pedestrian material above the mere stuff of its making.
That said, there are some genuinely "out" moments throughout the course of the album. The spoken narrations (many provided by "John Forst") provide an excellent mood and sense of foreboding that support the music's darker leanings, while providing opportunities to expand Vangelis' compositions, even if the tracks are less than a minute long. "
∞
" is one of the most notable avant-garde tracks, featuring a modern vocal performance by Irene Papas in which she repeats "I was, I am, I am to come I was" over a percussion backing provided by Vangelis. Papas' controversial performance blends the allusion and multifaceted meanings of the mantra with the singer's graphic imitation of an orgasm into a package that might even make Marvin Gaye (king of the female orgasm sound byte) blush in embarrassment. The nearly side-long "All the Seats Were Occupied" consolidates the entire album's disparate threads into an epic rock instrumental and sound collage in which bits of the previous songs reemerge and build into a pretty grand and satisfying climax, even if the track takes a few more minutes than necessary in getting there.
Ultimately,
666
is definitely good enough to justify its enduring cult popularity--its ambitious scope, the strength and variety of Vangelis' compositions and plenty of great rock and dramatic moments make it a thoroughly enjoyable listen, especially for fans of music like Pink Floyd where the texture and atmosphere are as important as the songs themselves and there's plenty of sound snippets and spoken sections (though Vangelis does get quite a bit more dissonant and weird than Pink Floyd did by the time they achieved worldwide popularity). If the music here suffers, it's primarily from sounding a little unimaginative when the songs are analyzed close-up, and a bit generically "of its time" 40 years later and, like most double albums, requiring a long attention span to absorb completely. While it'll probably never rise above its cult obscurity,
666
is certainly a worthy and enjoyable next step for people who've exhausted the more well-known, accessibly mainstream psych/progressive bands of the early 70's--just don't expect it to shatter your musical world.