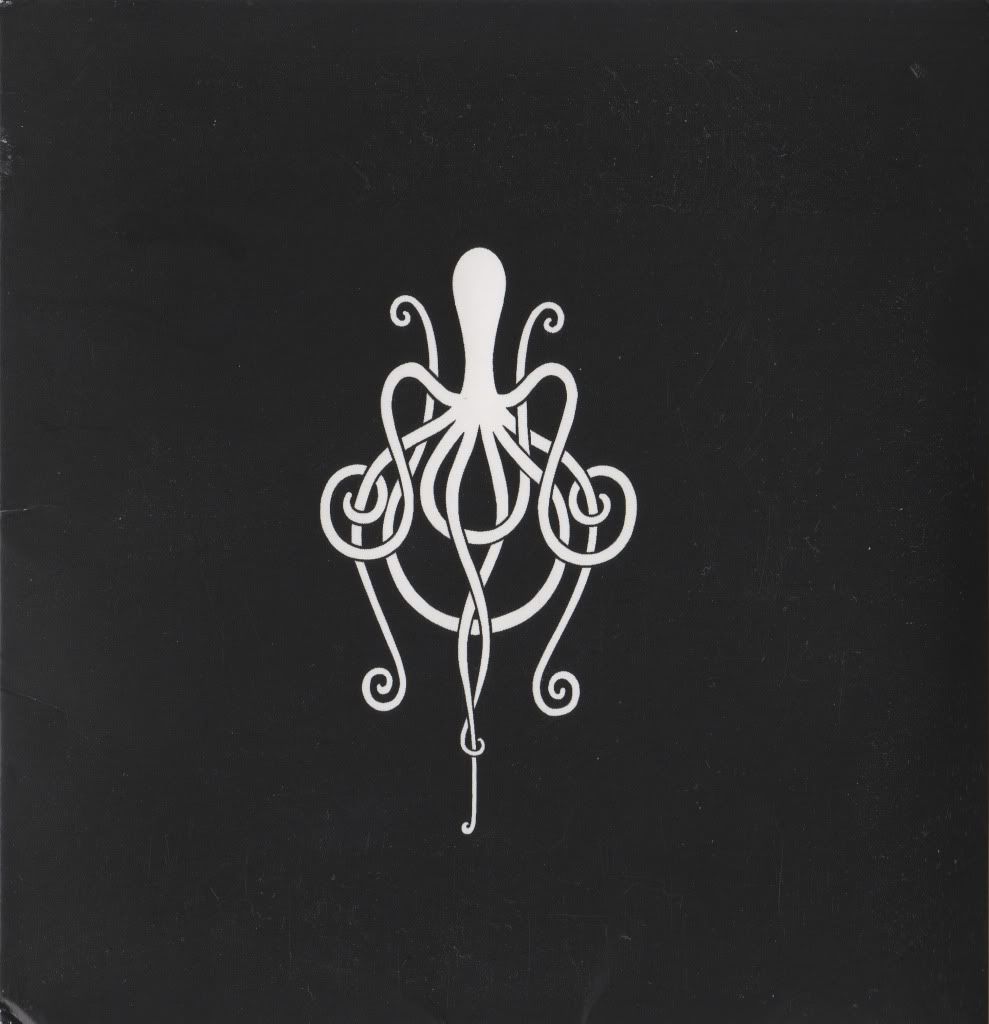 The last 2011 album I'm reviewing this week, Amplifier's
The Octopus
is as vulnerable or more to cries of "hype" as
Matana Roberts' Coin Coin
, already drawing extreme plaudits (my CD copy had a sticker on it declaring
The Octopus
to be "the grand standard against which all prog albums will be judged" or some such hyperbole) as well as some rather focused ire from music fans. Similarly to my experience with
Coin Coin
, I had read some glowing reviews for this album (the mainstream music press has been quite kind to it) so I was really excited to check it out--how often do you hear music critics putting progressive rock albums in their top albums of the year in 2011? After investing considerable time in this album (it's two hours long with an average song length of 7:30) I regret to say that I'm disappointed enough with it that this review will be the second installment of my
Know Your Enemy
series.
Let's start with the good things about
The Octopus
, and let's be clear that there are plenty of good things. Firstly, I want to praise the band's pop instincts--probably the best thing about this album is its melodicism and the amount of catchiness to be found in pretty much every song. The major/minor shift on "
Minion's Song
" results in an instantly catchy vocal melody, while songs like "
Trading Dark Matter on the Stock Exchange
," "
The Sick Rose
" and "
The Wave
" are all based on melodic guitar hooks, with plenty more to be found elsewhere. Similarly, the band is capable of impressive musicianship--the drumming is pretty solid throughout the album, and there are moments where it's obvious the guitarist has got chops (about four minutes before the end of "Trading Dark Matter on the Stock Exchange" is a good one). The songs here "rock" to the extent that that band's chemistry and energy are evident even though the album's a studio production. Finally, I think the band's ambition has to be applauded--they're clearly trying to create something epic with
The Octopus
, managing at times to create an atmosphere of grand proportions and tying the album with an intractably
esoteric concept
, not to mention the fact that they wrote and recorded the album without label support. On paper, there's a lot to admire about this effort.
Unfortunately, there is so much about this music that goes against what I stand for musically that the two hours required to listen to it drag by in slow motion, the minutes blending together into a dull aching throb. To start with, the album is billed as
progressive rock
. While a discussion about whether or not this music categorically
is
or
isn't
progressive is neither interesting nor productive, it might be illuminating to point out some of the characteristics of progressive music in relation to
The Octopus
. If long song lengths, spacey synth sound effects and song introductions, science fiction lyrics and a complicated concept define a music as progressive, then so be it--this album exhibits all of those components. If "progressive" implies some sort of innovation, surprising content, attempt to move music forward, or at the very least an impressive display of erudite musicianship in composition or playing, then this album falls far short of the mark. As professionally executed as it is, I hear virtually nothing in
The Octopus
that we haven't already heard before. The really disappointing thing is, most of it we've heard from non-progressive music; these guys aren't even plundering classic prog! In spite of the long song lengths, the band presents us with standardized verse/chorus songwriting, straight-ahead 4/4 time signatures and an ultra-orthodox sense of harmony and melody. I also have to take issue with those who compliment the band's "intricate" arrangements--despite the guitarist's frustrating display of ability, most of the parts played here are based on achingly simple riffs or clean arpeggios that repeat
over and over
without embellishment or development across minutes and minutes of track length. Similarly, the band's interplay pretty much never rises above predictable rock unison riffs and "dramatic" breaks, failing heavily when it comes to subverting the formula. Combine these structural weaknesses with production that reeks alternately of the heavily processed guitar tone that innumerable bands like Tool have been implementing since the 90's, and synth sounds, effects and samples that sound like they've been excreted by a computer, and most of the music here comes across as the hollow, sterile type of alternative rock that--again--innumerable bands have been producing since the 90's.
If the band marketed itself as a straight-ahead alternative rock band, these commonplace creative choices would at least fit the bill. Instead, they wrap pedestrian substance with a stylistic sheen that implies "this is gonna blow your mind." And how is this mind-blowing achieved? Mostly through the fact that nearly every song is bookended by at least a minute of spacey intro and outro sound effects with no connection whatsoever to the music that eventually appears, not to mention how poorly-integrated and gimmicky they are when they actually appear within the songs. It's like the band wants to recreate "Shine on You Crazy Diamond" without realizing that the song's atmospheric segues actually contain their own melodic framework and act as commentary on the core song's elements; just because you're playing notes doesn't mean you're producing meaningful musical content. The album could have easily saved at least a half hour by removing these interludes without even touching the primary content of the songs (which also could stand to have some fat trimmed). If I'd known how unimaginatively "contemporary alternative" this was going to be, I probably would have been happy to say "that's not really my thing" and leave it alone. Instead, I'm told it's a great new version of something I love only to find out that it's something else in disguise.
Speaking of disguises, let's get to the lyrics, which probably bother me more than anything else here. In support of their labyrinthine concept, the band has chosen to present the narrative with an indecipherable stream of pseudo-trippy clichés and embarrassingly cheesy metaphors and images, including (but not limited to): "ice age cometh;" "we're livin' on borrowed time;" "let empires fall;" "cross your heart and hope to die/don't take it personal" (two in a row there!); "don't you know that we belong somewhere over a rainbow/in the wreckage of the UFO;" "faster than a laser beam [beowwww; immediate laser beam sound effect];" "I know that you set the controls for the heart of the sun" (one of the most obvious Pink Floyd references imaginable); "this could be your lucky day;" "well ha fucking ha" (maybe my most hated lyric of the whole album); "divided and conquering;" "ignorance is bliss;" and "reach for the stars, you might grab one." Rather than attempting to convey the cosmic trip to which they so desperately aspire by using words to disorient and give life to an alien experience, Amplifier is content to undescriptively state their purpose with bland lines like "step inside/take a ride to another dimension," repeated
ad nauseum
. Don't forget--these words are sung by a voice that at times sounds eerily similar to Chris Martin's and has the grating habit of pronouncing long "i" sounds as "iiiiii-eeeee-iiiiii."
All in all, I applaud Amplifier's work ethic as an independent group and don't begrudge them their success--it's rare that independent artists can generate so much heat without the aegis of a label (though, to be fair, much the groundwork for their notoriety was laid when they
were
signed to a label, which I'm sure doesn't hurt). What upsets me most is the complacency evident on the part of the band and listeners' willingness to assert that this album is a real trip, mind-bending, and weird, when on some pretty objective levels it's far more regressive than it is forward-looking. I hope that if Amplifier continues to build on their success they'll decide to use their increased means to strive for something a little more outside the box--as of right now, they're about as far in there as you can get.