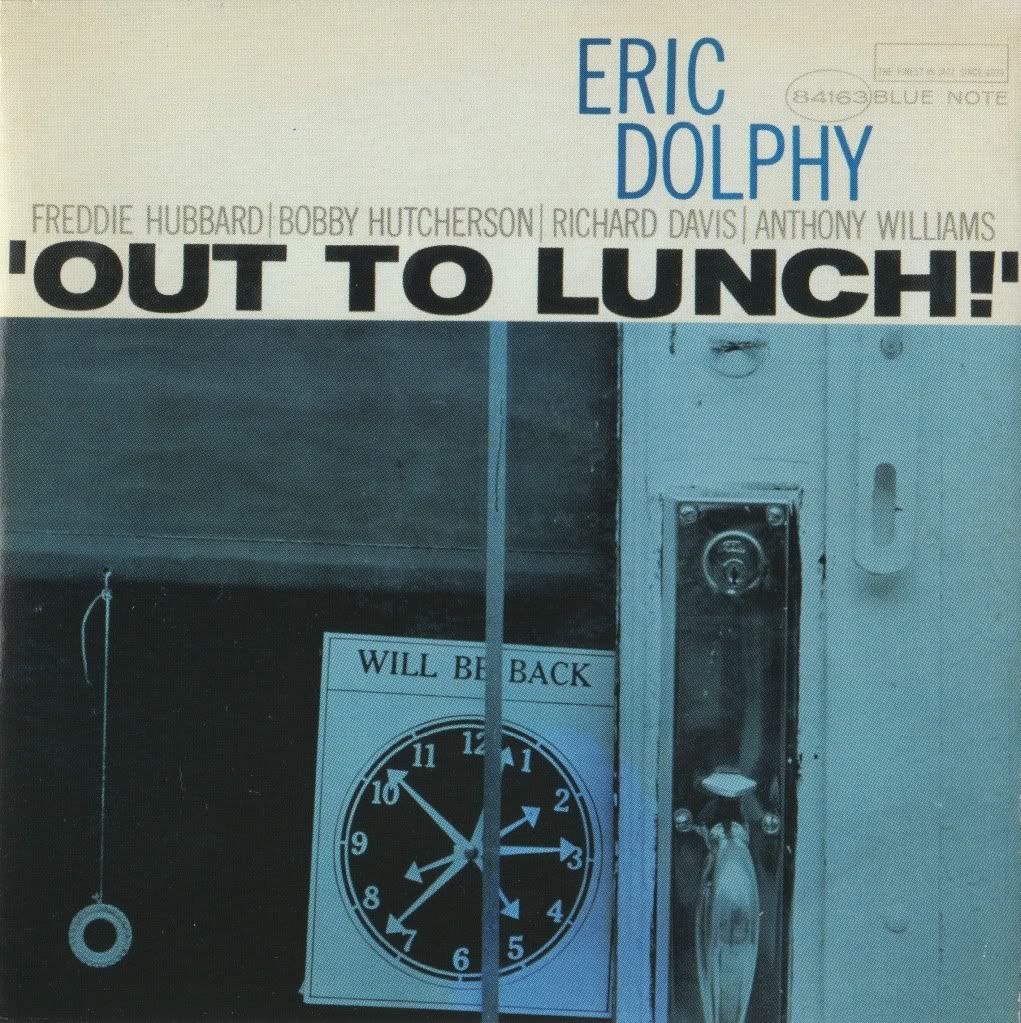 If I had to credit one album for inciting my recent obsession with jazz, it would have to be Eric Dolphy's 1964 crowning achievement,
Out to Lunch!
Before then, I'd found something of a backward insertion point into jazz by moving into free jazz from the less idiomatic free improvisation realm. After hearing this album, though, I realized that there's an entire movement within jazz (generally known as avant-garde jazz) that overlaps with free jazz in terms of soloist expression but also focuses heavily on expanding the compositional palette of bop and post-bop to a wide variety of places it'd never been before--undoubtedly, avant-garde jazz is the jazz for me!
By 1964 Eric Dolphy had had a storied career as both a sideman (supporting, among others, John Coltrane and Charles Mingus) and as a leader, recording several studio and live albums since his bandleader debut on 1960's
Out There
. It's unsurprising that Dolphy was in great demand as a session and live ensemble member, as he could play alto saxophone, flute and bass clarinet--the wider success of which in jazz music he can arguably credited--with comparable (but always idiosyncratic) virtuosity. Though he was playing "out" for years before the date of this recording,
Out to Lunch!
is the first (and last, since he died within months of its recording) of Dolphy's albums to feature only his own compositions. As I've increasingly found among successful avant-garde jazz albums, the combination between the adventurousness and innovation of the compositions and the freedom, creativity and chemistry of the performers creates a perfect storm of blissful, challenging sounds.
On the compositional side, Dolphy provides songs that run the gamut between dissonant odd-metered avant-garde ("
Out to Lunch
," "
Straight Up and Down
," "
Hat and Beard
," dedicated to Thelonious Monk, one of the only jazz composers who could be said to foreshadow Dolphy's style), early 1900's gospel jazz (the ballad "
Something Sweet, Something Tender
") and frantic, twisted bop riffing ("
Gazzelloni
"). On the more dominant weird stuff, Dolphy strikes a fascinating balance between abstractness (which often pleasingly extends typical jazz harmony to the brink of atonality) and Ornette Coleman's sinuous sense of head melody. "Hat and Beard," with its constantly mutating descending scale and lurching unison non-melody, fits the former category, while the title track fits the latter with a seemingly never-ending head that winds around in spiraling circles, somehow never separating the tight unison between trumpet and alto sax. The final track, "Straight Up and Down" is supposed to emulate a drunken stagger but, really, the same could be said of most of the rhythms here! What I really love about Dolphy's compositions is that they travel well beyond the head-solo-head formula that sometimes hangs like an albatross from so much ultra-orthodox jazz; sure, the songs have recognizable and recapitulated heads, but there are innumerable pockets of group dynamic shifts, coordinated rhythmic interplay and near complete dropouts that you never get the sense that things are happening without a good reason.
As far as the playing goes, like I said earlier, this is an undeniable example of a perfect storm where a dream team of players come together over a set that pushes them all to places they've never been before. The absence of piano means that vibraphonist Bobby Hutcherson carries the mid-range chromatic accompaniment on his shoulders, which means a lot of the accompaniment is more spacious than the type of comping that piano usually provides. I really enjoy how Hutcherson swaps between helping state the songs' melodies, comping with two or three-note chords over occasionally strange intervals, and spontaneously supporting solos with minor melodic excursions. While Hutcherson's replacement of piano on this album is often lauded (as must be his ability to make one of the geekiest jazz instruments as cool as it could possibly be), I think some credit is also due to bassist Richard Davis, who often uses two-note chords (sometimes with a bow) in addition to a more standard walking style to emulate the piano's absent tonal cluster effect. The tightness of Hutcherson and Davis allows Tony Williams free reign to play counter-rhythm to the vibes, alternate between blasting and delicate fills out of nowhere, and keep the ideas coming one after another without obsessing about blatantly stating the beat--sometimes it's just implied, and that space is one of the best parts about this music. Trumpeter Freddie Hubbard could easily be labeled this set's least adventurous performer, but there's really no denying his chops; though he can't compete with Dolphy in terms of out-ness, he ably makes up for his relative conventionality with furious energy, which just might be considered out on its own.
Finally, Dolphy manages to consolidate his well-documented strengths on all three instruments by stealing his own show. I can never get enough of his bass clarinet playing--the instrument's ear candy timbre is enjoyable on its own, but in the hands of someone like Dolphy, it becomes something else entirely. Especially with the bass clarinet, his intuitive feel for the instrument's range and voicing allows him to employ it quite vocally, screeching through wide intervals just as often as he blurts out vaguely tonal (but always strangely melodic) fragments. The beauty of this approach comes out even more on "Something Sweet, Something Tender," where the slow tempo and old-timey feel allow for some wide vibrato and compelling emotional expression. Dolphy's alto saxophone chops are another thing entirely; his tone is so flagrant it sounds like he's blowing fire out of his horn and the mics can barely handle it. "Gazzelloni" is the only flute showcase, which seems like a good ratio--the vibraphone seems to overlap in terms of timbre, so one example of Dolphy's rapid fire, often viscerally percussive flute style satisfies quite well.
It's a shame Dolphy wasn't able to follow up this masterpiece with a few more albums of his own compositions--he was clearly on a roll. Fortunately, there are numerous great examples of his ability as a sideman (my picks for a balance between Dolphy's chops and adventurous composition are
Andrew Hill
's
Point of Departure
, George Russell's
Ezz-thetics
, and Ornette Coleman's iconic
Free Jazz
), and if you just want to hear the man play, his
Wikipedia page
comprehensively lists his discography as a leader and sideman--enjoy the trip. It's disappointing that few contemporary jazz artists have attempted to push the genre forward in this way--there's clearly lots of space left to fill with audacious sounds, and it's hard to argue that these guys didn't have a great time making this music.
On a side note, here's what happens when you listen to too much Eric Dolphy...for use on my upcoming recording project.