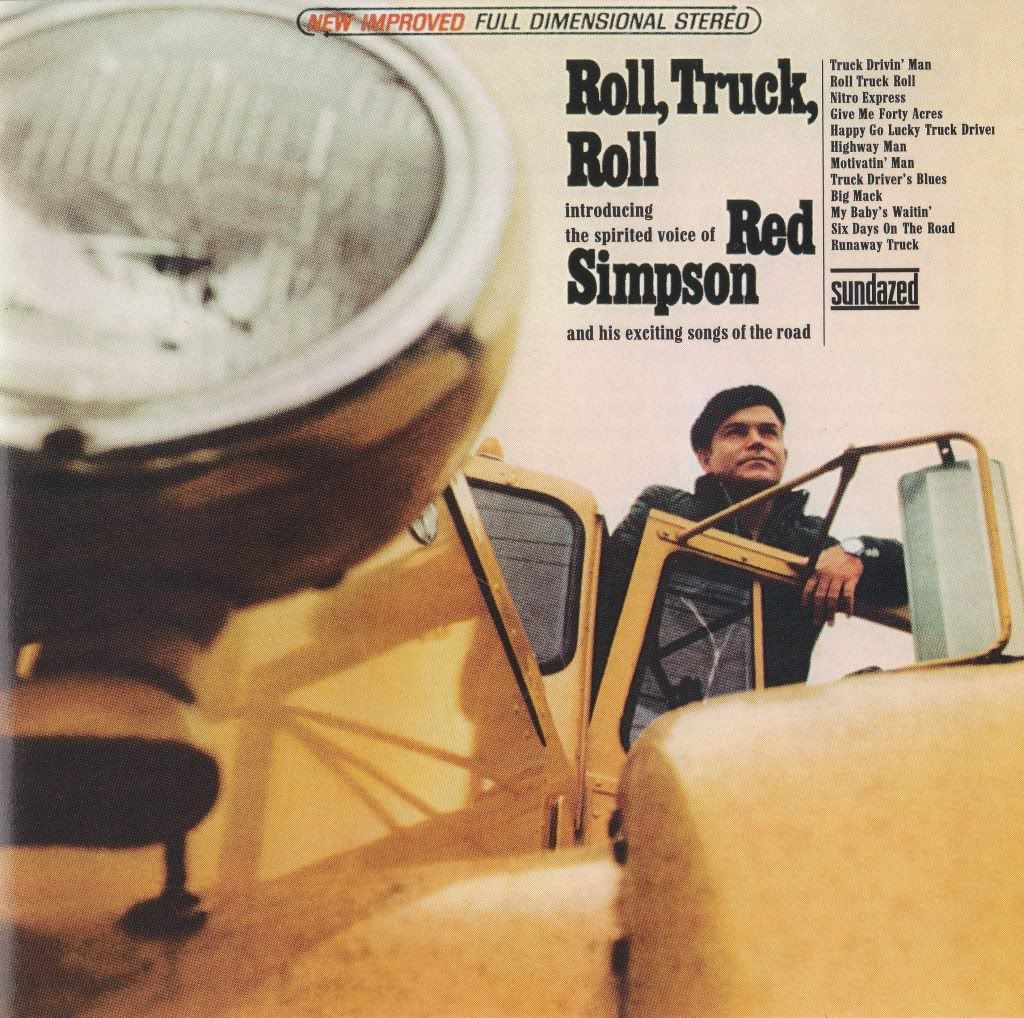 It's been far too long since I've done any country, so here's one of my favorites. Though Red Simpson's not as well-known as the dual kings of Bakersfield (Buck Owens and
Merle Haggard
), you won't find an album that exemplifies the Bakersfield sound more than 1966's
Roll, Truck, Roll
. In my mind, there's never been a novelty album that's been so thoroughly gimmicky
and
musically righteous in every way.
Like the cover says, this album presents "exciting songs of the road" as sung by Simpson's "spirited voice"--each and every one of the 12 songs is about truck driving, and every time I listen to this album I'm astounded how comprehensively and realistically the subject is explored. For starters, we get just as many songs detailing the loneliness and soulful isolation of the road (
the title track
, "Truck Driver's Blues," "My Baby's Waitin'") as we do about the joy and freedom of living life on the move ("Truck Drivin' Man," "
Happy Go Lucky Truck Driver
," "
Motivatin' Man
"). Elsewhere, there's colorful kernels of the truck driving life sprinkled like party favors--three songs about runaway trucks, a jackknife incident ("Give Me Forty Acres"), a truck stop ("Big Mack"), a run-in with the law ("Highway Man"), and even a reference to stimulants in "
Six Days on the Road
." For what's ostensibly a novelty album, there's some real emotion behind some of these songs, like the traditional spoken monologue on "Roll, Truck, Roll" where we're sat right there in the passenger seat as the narrator talks about how his son hardly knows him and spends all of his time drawing pictures of trucks. Dig the end of the monologue when Simpson says "I've got to keep my spirits up, so I guess I'll sing a little more" and launches back into the chorus--now that's great songwriting. What really pulls it together is Simpson's everyman voice--he actually sounds like he could be a truck driver, delivering lines both heart-wrenching and hilarious in an unadorned and matter-of-fact style that fits the subject matter perfectly.
In other places the band delivers plenty of other classic country tropes, like substituting a honk for the word "hell" on "Give Me Forty Acres," imitating a siren with steel guitar on "Highway Man," and founding choruses on cheesy jokes like in "My Baby's Waitin'" when Simpson croons "It won't be long till I get there, holding the one who's true/'cause old steering wheel, I'm getting mighty tired just holding on to you" and on "Big Mack" when a lovestruck truck driver mixes up the food items in his breakfast order. Throughout the set the musicianship is top notch--both the six-string lead guitar and steel guitar are great, and there's even a bunch of great piano that accentuates the jazziness of songs like "My Baby's Waitin'" and especially the honky-tonk bounce of "Motivatin' Man," "Big Mack" and "Truck Drivin' Man." When it comes to addictive melodies and upbeat, catchy Bakersfield rockers, I can think of few better collections of foot-tappers. For a branch of country that seems to have precious few real examples, Red Simpson's debut is a precious and worthy addition to the pantheon. I suggest we follow his orders, put a quarter in the jukebox and play "The Truck Drivin' Man."