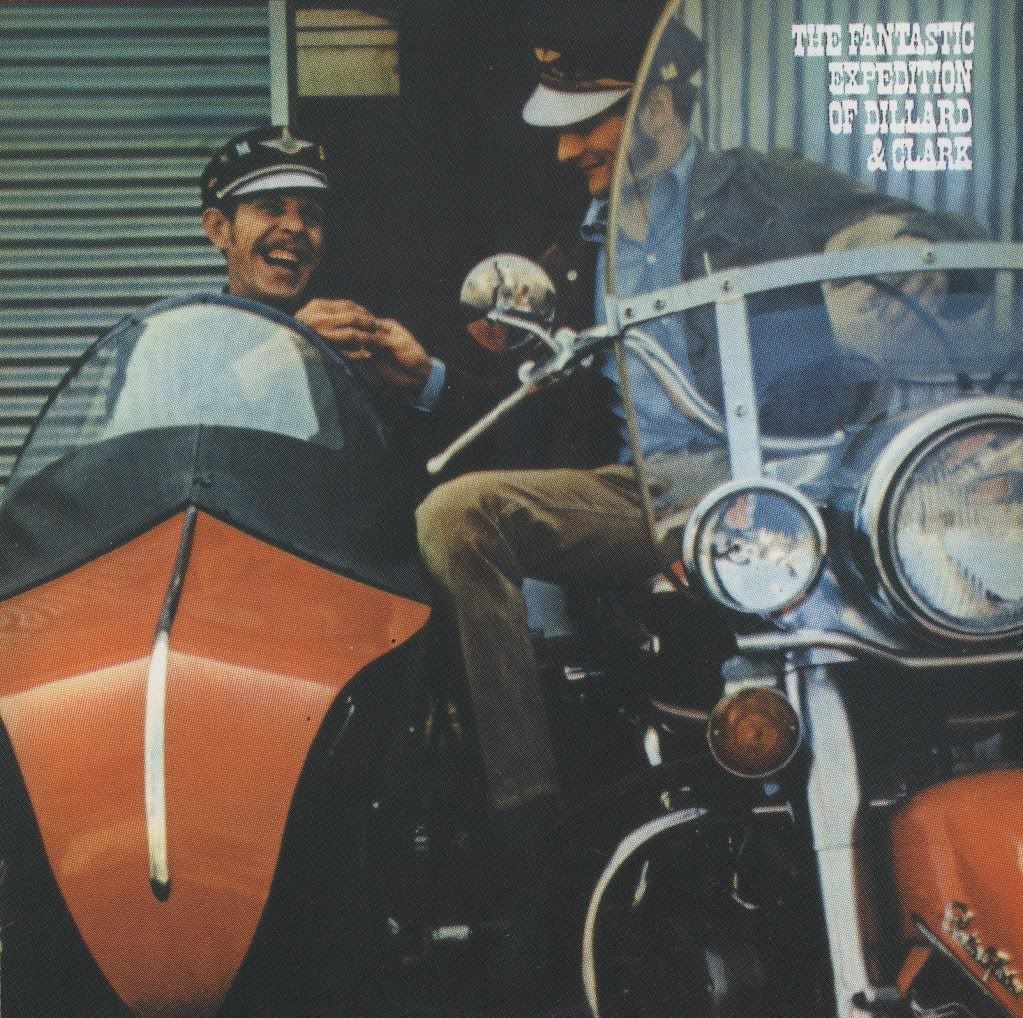 The other night I was having trouble choosing something to listen to--ultimately, instead of one of my recent jazz purchases, I reached for this--
Gene Clark
's first (of two) albums with bluegrass virtuoso Doug Dillard, sandwiched between his post-Byrds solo debut
Gene Clark With The Gosdin Brothers
and the stunning
White Light
. While a lot of country rock aficionados like to place this album as one of the first country rock collections, I prefer to think of it in the context of Gene Clark's discography as both his first masterpiece as a performer and songwriter as well as the only full album where he's complemented by an instrumentalist with an equally impressive and distinctive personality.
It's a Gene Clark album, so of course there are some great songs--"
Train Leaves Here This Morning
" is likely many people's favorite with its laid-back swing and one of Gene's best ambiguous chorus lines since "I'll Feel A Whole Lot Better" with "there's a train leaves here this morning/I'm not sure what I might be on." The arrangements still show a Byrds-like penchant for thick harmony vocal arrangements, but to my ears Dillard and company provide considerably stronger accompaniment. Also quickly noticeable are "
Out On the Side
," which showcases Clark's aching emotional vocal delivery backed by a full band (organ included) arrangement, and "
Don't Come Rollin'
," which starts as a loose harmonica jam and builds into a buoyantly conversational tell-off replete with some fast-talking from Clark, not to mention a hash reference.
As usual, though, the songs that withhold their treasures for patient attention are ultimately just as interesting--"She Darked the Sun" proves Clark was able to adapt his songwriting to an old-timey bluegrass aesthetic while at the same time dropping crushingly modern lines like "with the length of her mind she darked the sun." Even more affecting is the album's one-two closing punch--the jubilant banjo and familiar bass pattern of "
The Plan
" belie Clark's desperate existential searching, and "
Something's Wrong
," focuses the songwriter's profound melancholy into one of the most powerful coming-of-age songs I've ever heard, full of childhood reminiscences and a devastating bridge--and with its album-closing fiddle denouement it still clocks in under three minutes.
These would still be great songs even if Clark were just singing them with an acoustic guitar, but Dillard (as well as Bernie Leadon) provide a shimmering backdrop of banjo, mandolin and lead acoustic guitar that adds both depth and warmth to Clark's songs as well as playing that's worthy of focusing on for its beauty alone. Dillard's banjo skills in particular are mesmerizing--his speed is remarkable, but even more so is his ability to change up his picking patterns on the fly, providing a rhythm/lead accompaniment that constantly and fluidly changes. It's also worth noting how well the album incorporates subtle psychedelic production elements--the harmonies in particular lend themselves to such treatment, as the brilliant instrumental section, break, and final chorus of "
With Care From Someone
" demonstrate, and the inclusion of harpsichord on a number of songs adds a sort of exoticism that again reminds us that what we're listening to is more than just a bluegrass album with original songs--check out the trippy swelling atmosphere at the end of "
The Radio Song
"--it
was
1968, after all.
Even though this album clocks in under 30 minutes and the follow-up utterly fails to live up to its predecessor,
The Fantastic Expedition of Dillard and Clark
lives on in my collection as a perfect collection of songs and performances--listening to it the other night was like having a conversation with an old friend.
Get it here
.