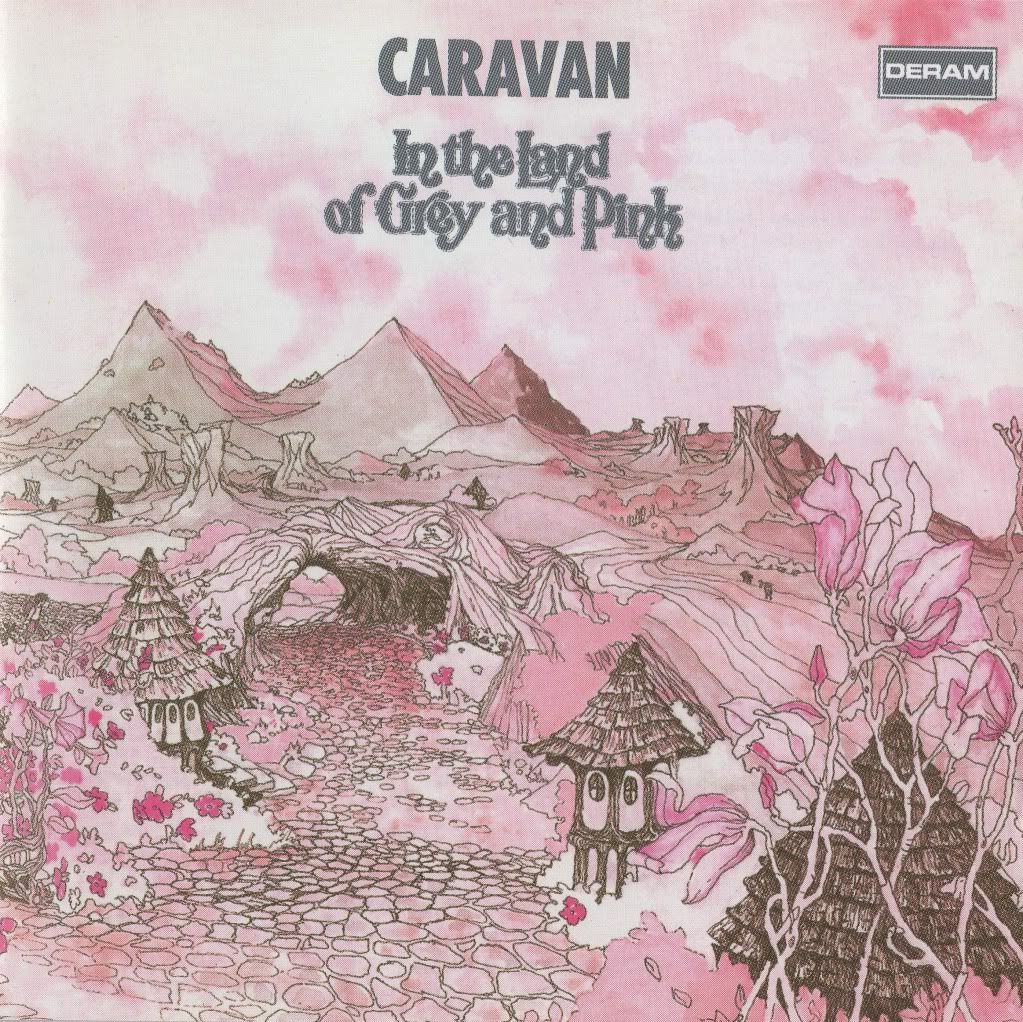 It's been a while since I've written about any
Canterbury Scene
bands, and I'd still like to further explore how the music has expanded past its original physical scene into a recognizable style, but also what it was like when the style and membership of the scene was still concentrated in just a few bands. You can't do that without talking about Caravan, which--aside from
Soft Machine
--probably has the most members closely tied with the early Canterbury Scene. Like Soft Machine, Caravan started in the late 60's, boasting members from the formative Canterbury band Wilde Flowers. Also like Soft Machine, Caravan was instrumental in defining what has come to be known as the Canterbury sound, although in a considerably different way from the Softs. Even at its early poppiest, Soft Machine's sound was always firmly rooted in jazz, while I'd say Caravan is more tied to psychedelic rock with some elements of jazz and progressive, and by most accounts they perfected this distinctive blend with this, 1971's
In the Land of Grey and Pink
.
In case you were worried, the bouncy opener, "
Golf Girl
" assures us of this album's origin--the trombone, flute, juiced-up organ and goofy lyrics ("on the golf course/we talk in Morse") are undeniably Canterbury. Compared with Soft Machine, though, this is definitely rock, and while it seems
Robert Wyatt
was mostly just screwing around (albeit quite entertainingly) with his lyrics, there's a sincerity with Richard Sinclair's words and delivery that adds a dimension of warmth to Caravan's whimsy. "
Winter Wine
" turns a 180, with a psychedelic folk bent and a bunch of fantasy imagery that seems to support the album cover (which, by the way, is fucking awesome--I want to go there). Though Sinclair's vocals do seem a little inconspicuous on first listen, a surprising amount of nuance becomes apparent when you come to learn the songs a bit better. The mutual Canterbury influence is apparent in how he and guitarist/vocalist Pye Hastings make up a sort of two-man approximation of Wyatt--Hastings' vocals rest in the thin, upper register Wyatt treads so often (check out the delirious cowbell pop of "
Love to Love You (And Tonight Pigs Will Fly)
", while Sinclair's lower range seems to prefigure the fragile humility so often found in Wyatt's post-Soft Machine work.
The
title track
revisits the "Golf Girl" feel with some more stoner-hippie-fantasy-nonsense imagery ("we'll pick our fill of punk weed and smoke it it till we bleed--that's all we'll need") as well as some sparkling piano and a great organ solo. I find it interesting how the band employs a classic Canterbury (Mike Ratledge) innovation like the fuzz organ, but use it in a totally different way. This brings me to the epic, side-long closer "
Nine Feet Underground
," which assures us without a doubt that Caravan's lead solo instrument is Dave Sinclair's organ. While the other Canterbury groups are no strangers to long solos, Caravan seems content to set up a fairly straightforward rock riff-based jam and allow Dave Sinclair to stretch out with several minutes-long organ solos. While it's a repetitive approach and Sinclair's style is nowhere near as technically erudite as Mike Ratledge's or
Dave Stewart
's, for example, there's something about Caravan's hazy/catchy psychedelic atmosphere and the tone and Sinclair's tone and note choice that just clicks perfectly. It's amazing how well a 22 minute-long song can mostly subsist on jams and organ solos (though Pye Hastings and Richard Sinclair each contribute a vocal section) but I think it owes to memorable, melodic chord progressions and Sinclair's willingness to effectively alter the tone and effects of his instrument to expand his ideas and change up the palette. The song's conclusion pits barnstorming riff sections against some of Sinclair's most groovily aggressive soloing (though some say it rips of "Sunshine of Your Love," I'm not sure Cream can really lay creative claim to an entire musical interval--suffice to say the two riffs are similar-sounding and Cream's came first). Amazing--that is, if you like longform jamming.
It seems there's a Canterbury Scene band for every mood and season (well, not really, but the scene demonstrates surprising depth while still conveying a distinctive sound), and for me Caravan is the catchiest, most mainstream of the lot, which is probably why they remain one of the bands who is more often discovered by younger listeners, even achieving mention in Mojo, which sports nary a mention of most other Canterbury luminaries, except Robert Wyatt, who seems to show up several times an issue these days. This album is warmly recommended to psych/prog fans as well as Canterbury disciples, and it's worth mentioning that
If I Could Do It All Over Again, I'd Do It All Over You
and
Caravan for Girls Who Grow Plump in the Night
are nearly as rewarding.
Get it here
,
or deluxe here
.
Please enjoy the back cover, too: