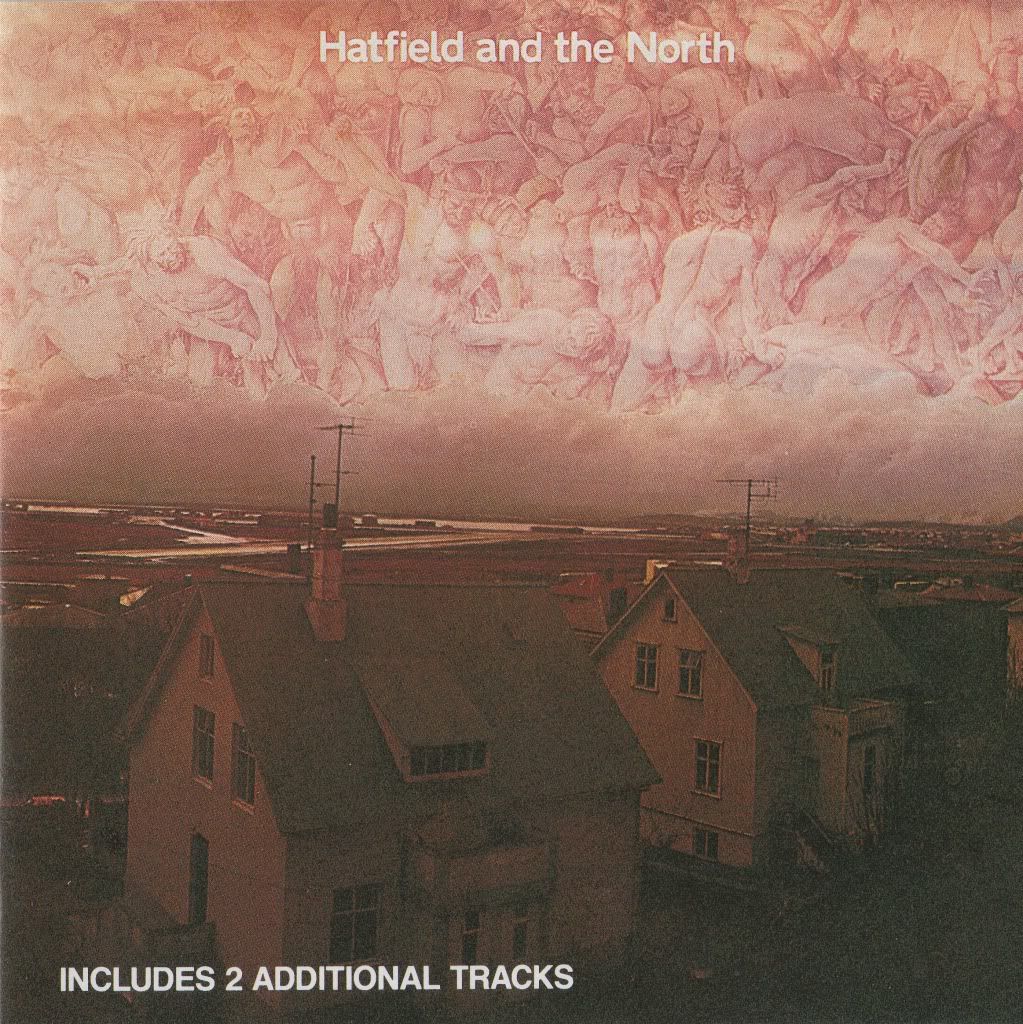 To delve further into the dense stuff of the
Canterbury Scene
, Hatfield and the North's 1974 debut is a great place to explore how the scene evolved both personnel-wise and sound-wise as the 70's wore on. By this time
Soft Machine
was firmly on a jazz-heavy fusion route, with
Robert Wyatt
long-since departed, finished with his next project
Matching Mole
, a paraplegic and releasing his first masterpiece,
Rock Bottom
, the same year.
Gong
and
Caravan
were already very different bands, with drummer
Pip Pyle
gone from Gong (to drum for Hatfield and the North) and guitarist
Steve Hillage
added to the fold, and bassist
Richard Sinclair
departing Caravan, also to work with the Hatfields. By the time of this album's recording, the core group was rounded out by
Egg
(among other groups) keyboardist
Dave Stewart
and Matching Mole/Delivery guitarist
Phil Miller
. My intention isn't to get overly cluttered with names and group references, but rather to show just how intermingling the Canterbury Scene was (and continues to be, to some extent)--Hatfield and the North can in some ways be considered the first Canterbury supergroup as it was formed from members who had already demonstrated their abilities on the classic albums of other Canterbury groups.
Sound-wise,
Hatfield and the North
amply demonstrates how the Canterbury sound continued to get more sophisticated, more refined, and jazzier. Unlike mid-70's Soft Machine (or the trace jazz elements found in Caravan, for example), Hatfield and the North's debut sound is one of fusion of jazz harmony, complex composition and improvisation with appealing, gentle melodies. The complexity of these compositions is far from the relative pop-simplicity of Caravan's songs, yet Richard Sinclair seems to have no trouble accommodating his bass skills to the material. And don't think that this group is just going to sound like a summation of all the things the members did before--this album is rife with seamless transitions and sub-one-minute segue tracks, and the mission of the vocals (the lyrics for which are mostly tongue-in-cheek nonsense) seems to be to give listeners an accessible insertion point into what's often complex and difficult-to-get-the-first-time music.
Though it's not
his
group,
per se
(at least not as much as later incarnation National Health was), Dave Stewart's keyboards provide the most noticeable framework for this music--fluidly transitioning between Rhodes electric piano, Hammond organ, various synthesizers and acoustic piano to provide both texture and melodic substance. "
Son of 'There's No Place Like Homerton'
" boasts some of the most Egg-like contrapuntal puzzle keyboard of the album, with a complex, ever-shifting atmosphere abetted by airy, ethereal contributions of the "Northettes" (background singers Barbara Gaskin, Amanda Parsons and Ann Rosenthal, who also contributed to Egg's
Civil Surface
album, released the same year). Robert Wyatt guest vocalizes on "Calyx," eventually joined by Richard Sinclair in a delicate, wordless duet. It's these kinds of complex but unassuming moments that make Hatfield and the North's two albums so rewarding on repeated listens.
I have to admit that it took me quite a few before my attitude shifted from mere respectful appreciation to all-out enthusiasm--I'm beginning to think that there's something about the language of jazz harmony that's fundamentally different from that found in most rock and pop--you have to have to acquaint yourself a certain amount with it before it stops just sounding like silly noodling and the multiple facets possible with extended harmony start to shine through. The songs here don't often "rock out" (even by Canterbury's gentle standards), and the often major-key extended harmonies are much more reminiscent of later smooth jazz music than their darker minor counterparts being explored by Soft Machine and
Henry Cow
. The band does manage to get pretty uptempo and a little more aggressive in sound on the fast-paced "
Rifferama
," which features Gong saxophonist Didier Malherbe and on which Dave Stewart coyly quotes the "I Never Glid Before" melody. "
Shaving is Boring
" is likely the album's most epic composition, treading some darker territory with some Mahavishnu Orchestra-like ostinato patterns, gnarly Canterbury fuzz organ and an uncharacteristically distorted and noticeable contribution from Phil Miller's guitar (we won't quite get to see him cut loose until National Health's
Of Queues and Cures
, which fulfills all of Hatfield and the North's promise and then some). Richard Sinclair does his best Robert Wyatt in the vaguely sexual "
Licks for the Ladies
," displaying that his sometimes subdued vocals aren't without a considerable amount of nuance. He also manages some of the album's funniest quirky Canterbury nonsense vocals when "Big Jobs No. 2" recapitulates the second track with metacommentary on the band's hopes for commercial success.
It's interesting to see how all of these Canterbury figures continued to develop their distinct but collective musical visions while at the same time working for some kind of commercial success. As the band morphed into National Health and progressive music became less and less popular in the late 70's, it became clear that the golden days of having label support and a mouthpiece through which to broadcast these ideas were drawing to a close. Luckily several of these musicians have soldiered on to make more worthwhile music, but we also have a legacy of densely enjoyable recordings and ideas to engage in the present. This album is warmly recommended along with the band's sophomore effort
The Rotters' Club
, as well as National Health's self-titled debut and the aforementioned
Of Queues and Cures
--more thoughts on those records later!
Get it here
.