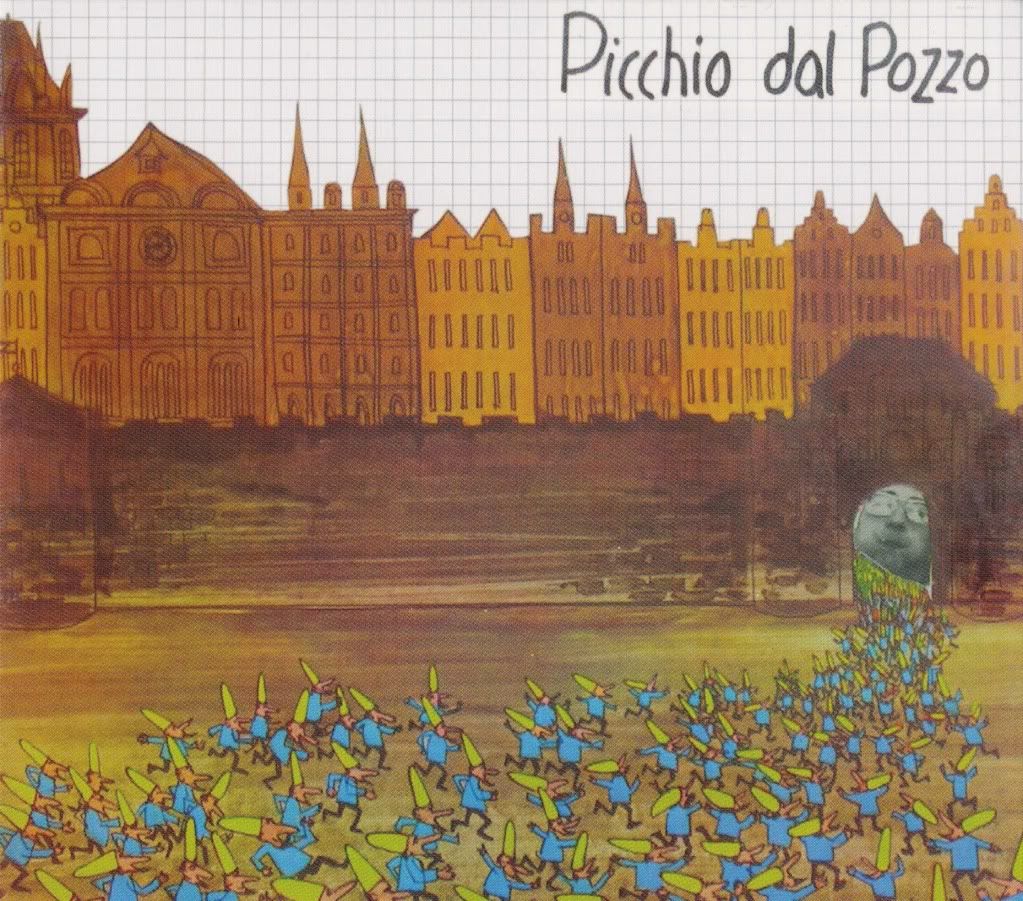 To round out this week's
Canterbury Scene
focus, here's one of the best examples of how the scene's sounds eventually transcended their geographical and physical origins, and a few even more obscure groups in Europe carried the Canterbury influence in an expanded and often quite interesting and artistically successful direction. On their 1976 eponymous debut, Italian group Picchio dal Pozzo manage to fuse the gentle synth atmospheres and vocalizing of solo
Robert Wyatt
with space rock jams not unlike those of mid-70s
Gong
, all the while sticking to a very Canterburian classical-jazz instrumentation that's heavy on flute, xylophone, oboe, keyboard and fuzzed-out bass and guitar.
Like so many of my very favorite albums, part of what I love about this album is simply
how
the music sounds--from the first fade-in acoustic guitar notes of "
Merta
" the tone of this album is like a warm bath--enveloping, soothing and somehow comforting in spite of its more challenging moments. Though it's easy to trace this group's influences to Canterbury, there's something about their hazy, dreamy sound and penchant for mischievous wordless vocals that is totally their own. "
Cocomelastico
" follows with a direct segue into an awesome-sounding guitar/saxophone counterpoint melody underpinned by layers of spacey synths and some sort of twisted lounge music with suitably gently goofy singing. As you can see from the
lyrics
provided on the band's official website, the few words to these songs are mostly nonsense and whimsical wordplay; perhaps one of the Canterbury scene's greatest strengths in terms of longevity is that, unlike most progressive bands, its groups never seemed to take themselves too seriously!
The album's darkest track and arguably its centerpiece is the magnificent "
Seppia
," beginning with a minor ostinato and some well-chosen dissonant note pairs in the bass before stating a dramatic oboe-led melody and dropping into on of the most deliriously hypnotic fuzz bass riffs in Canterbury history for a synth/xylophone/vocal jam that lasts a good six minutes before dropping suddenly into a quietly avant-garde flute/xylophone/bass trio and closing the tune with some spoken word and a stately, mysterious reed-led section. The number of sudden surprises, dynamics, details and layers of beauty in a track like this are my total ideal--it's at once accessible and traditionally melodic, while at the same time playing with dissonance and bizarre choices. The genius of Picchio dal Pozzo's approach seems to be their use of gentle instruments and textures to explore these potentially grating musical moves; they're not going to offend anybody too blatantly, but if you pay attention you realize that there's a lot more going on here than it might initially appear.
"
Napier
" and the rest of the tracks present more densely-packed, swiftly-moving ideas, quirky but accessible melodies and almost narcotic timbres. While the last couple of tracks are perhaps less obviously memorable in terms of melody and structure, their humble beauty does improve with further listening and the texture and atmosphere suits the rest of the album's mood so well that the disc trails off in a dreamy whisper that makes me want to start over immediately. Though it can be argued that the heavy Canterbury influences make Picchio dal Pozzo's debut a bit derivative, as far as I'm concerned we could do with a few more great Canterbury albums and the quality of this music is so consistent and the atmosphere is so uniquely dreamy that it really doesn't bother me; sometimes doing something really well trumps doing something first, and you'll often find there are subtle wrinkles of originality hidden within.
Picchio dal Pozzo
is one of my favorite Canterbury albums and is probably favorite Italian progressive album (though there are only a few Italian progressive groups who have actually clicked with me; Stormy Six, Area and Museo Rosenbach and maybe one or two others who manage to do more than rehash the less interesting aspects of symphonic prog). I'm also really excited to say that this album is back in print on CD--just reissued by Italy's Goodfellas label at the end of 2011. Now I can review it guilt-free and point you to one of my favorite online storefronts,
Recommended Records
, as a great place to purchase this CD and support these artists. Obviously, this album is highly recommended, as is the group's second and final studio release, the more challenging and
RIO
-flavored (but equally rewarding)
Abbiamo tutti i suoi problemi
, which has been consistently commercially available--more on that album later!