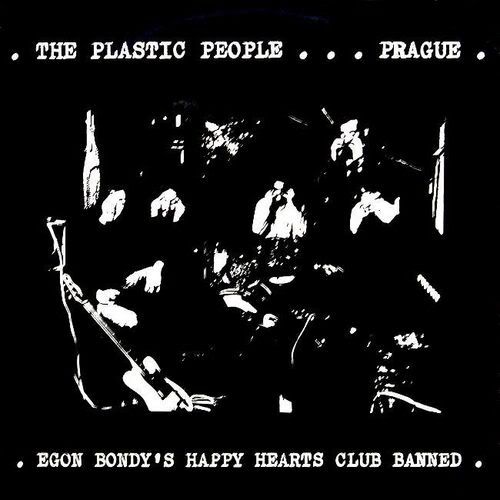 Recorded in 1974 in communist Prague but not released until 1978 in France
Egon Bondy's Happy Hearts Club Banned
is the first album by long-lived Czech band Plastic People of the Universe. Like a number of other bands in the 60's and 70's, these guys were part of an underground rebellion against repressive communist governments that took the shape of rock music--I can't think of a much cooler reason to make music.
I remember the first time I tried to listen to this album, I was a little disappointed in the opener, "
Dvacet
;" though it introduces the group's appealing instrumentation (including saxophone, violin, some weird keyboards and delay-treated vocals), the melodic pattern is simple and repetitive, and though I'm aware the Czech poetry (written by Egon Bondy) that makes up the lyrics is probably pretty charged, I can't understand Czech and don't have a source for translation. I must have stopped listening and switched to something else before the one-minute mark, when the free jazz-informed sax solo starts with a scream from one of the vocalists, and the group's primal groove kicks in. When I finally gave the album a second chance, I remember kicking myself for not listening just a bit further. Though it's just a couple minutes long, "Dvacet" is a good example of the group's compositional style, which relies on repetitive grooves and sing-song melodies as a backdrop for some pretty wild soloing.
It becomes pretty apparent how
Frank Zappa
-influenced these guys are (they even took their name from a Mothers of Invention song) after just a few minutes, but I like how they take the irreverent mood and tense harmonic structure of Zappa and
Henry Cow
and apply it to a much more primitive structure of simplistic but often brutal riffing. "
Toxica
" spaces out a minor theme with effective theatricality before riff-izing it for a great fuzz guitar solo, while "
Magicke Noci
" starts with some delirious synthesizer before launching into one of the album's most punishingly foreboding riffs, somehow conjured just from bass, rhodes and drums. "
Podivuhodny mandarin
" is probably the best fusion of lyrical rhythm and hypnotic riffing on the album--make sure to check out the
video
of a 2009 performance; these guys are still rocking this material even though they're old and grizzled!
Though a few of the quieter tracks (like
"Okolo Okna
") might not be as immediate or arresting, the group always manages to set up a unique atmosphere and accomplish some spacey soloing. I also really like their deeper ventures into satirical territory on the short spoof "
MGM
" (wherein the group imitates MGM's opening lion roar with their own voices) and the theatrical closer "
Jo - to se ti to spi
," where the vocalizing is almost
Robert Wyatt
-like. Keep in mind that this is an underground recording (the sound quality is pretty low), but the group's untamed irreverent spirit and counter-cultural defiance always manage to show through--you can easily tell that they're not only risking their political freedom to make this music, they're also having a great time doing it! Good luck finding a CD of this sadly out of print album; luckily it's around for download in quite a few places.