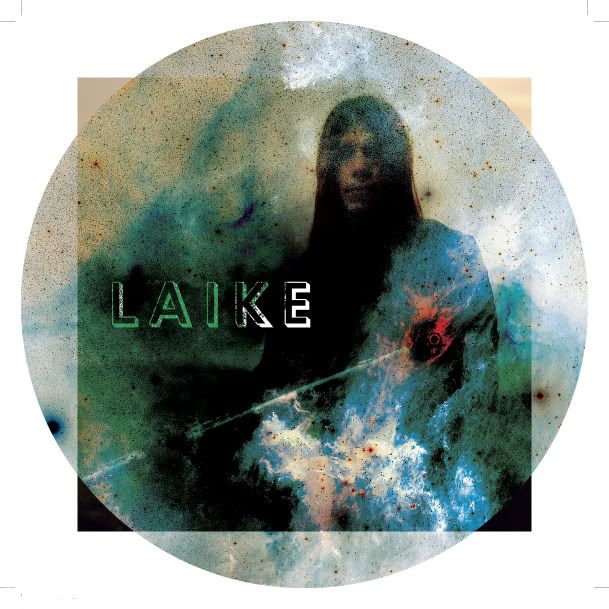 Today I've got the pleasure of writing about an independent artist's album on the day of its release.
Laike
is a Swedish artist whose debut solo album
Långt från stadslivets dån
is released today on British label
Les Cousins
, one that's got a special place in my heart for reissuing most of
Davy Graham
's back catalog and making possible his welcome (if painfully shaky) 2007 swan song,
Broken Biscuits
. Laike is the artist moniker of a sort of one-man show in Christofer Ståhle; he writes, sings and plays guitar, piano and flute here, though he's joined by a number of friends performing various instrumental duties. Laike's album notes refer to a recent enthusiasm for 1970's British folk rock bands like Fairport Convention and The Pentangle (I also hear some Comus in the violin parts), and I think there's a lot here to compare with that music but there's also a lot more here.
I spend a lot of time as a musician and writer worrying about originality and distinctiveness--not necessarily expecting others or myself to produce a musical product that's never been done before, but rather hoping to avoid the decisions that have been made so many times by other artists that they're both clichéd and (for lack of a less snobby word) lazy. Listening to Laike's debut I come to the realization that the fact that much of the music here sounds stylistically familiar really isn't a problem. As a listener who's pursued some of the same bands, I feel that the progressive folk, acid folk, eccentric singer/songwriter (or whatever you want to call them) fields are specifically
underdeveloped
and any contemporary artist who makes a point of further exploring those areas has both a rich and varied template to draw from, but also a multitude of unanswered musical questions and new directions to explore. Perhaps I'm biased, but I think that as long as the personality, enthusiasm and artistry match the music heard on this album, there's plenty of room for more music in these areas and it'll be quite a while before their ideas are exhausted.
On to some specific impressions--on first listen, Laike's debut is an unassuming collection of straightforward, gently floating melodies framed by accessibly organic arrangements of mostly acoustic instruments playing parts that are sometimes instrumentally impressive but always designed to serve the songs. As always hoped-for with this kind of music, further familiarization shades the hookier aspects with all kinds of subtle nuances (like psychedelic electric guitars you won't even notice until the third spin) and details that both broaden the experience and speak to Laike's craftsmanship and judgment. For the most part, the songs are split between buoyant folk-rock like tunes as found on the opener "
Modeslavarnas marsch
," "
Gladiatorkamp
," and "
Du är mer än vad jag ser
" (where the violin riff, bass line and Dave Mattacks-like drumming most closely recall the aforementioned British bands), and quieter acoustic numbers like "
Ensamhetens borg
" (where Laike's guitar takes on a
Jansch
-esque swing), the playful melody of "
Bygger stegar upp till himmelen
" and the spare-yet-trippy "
Städernas tid blev inte lång
." Then there's the stuff that's something
more
, where jazzier tendencies meld with overt pop instincts and melodies like the great guitar riffing and grooving Fender Rhodes on "
Långt från stadslivets dån
" or the frantic 5/4 piano riff that anchors the valedictory "
Tankefabriken
." And let's not forget the spacey field recordings that bookend a few of the tracks, pitting Laike's voice and flute against boundless natural reverb with great textural and thematic effect, not to mention how far they stretch past the folky feel of the rest of the music.
Laike's voice, guitar and flute run throughout as cohesive threads, his voice especially providing an ethereal lightness and impressive depth of expression to the songs, at times reminding me of singers like Duncan Browne and
Jorge Ben
in its deceptive delicacy. I only read the English lyric transcriptions Christofer sent me after listening to the album a few times--I'm surprised how dark they are in relation to the music, dealing with themes of the oppressive nature of urban life (the title translates
Far Away from the Noise of City Life
) but also isolation and a frustration with the state of the world. Luckily, the beautiful melancholy of the music and a few moments of hopeful idealism tug the emotional feeling back into the satisfying realm of coldly shining Scandinavian bleakness.
Långt från stadslivets dån
is an album I'm both happy to share and an album I'm looking forward to getting to know even further--congratulations to Christofer on a job well done and best of luck as he continues on his artistic path and releases this music to the world!
Get it here
.