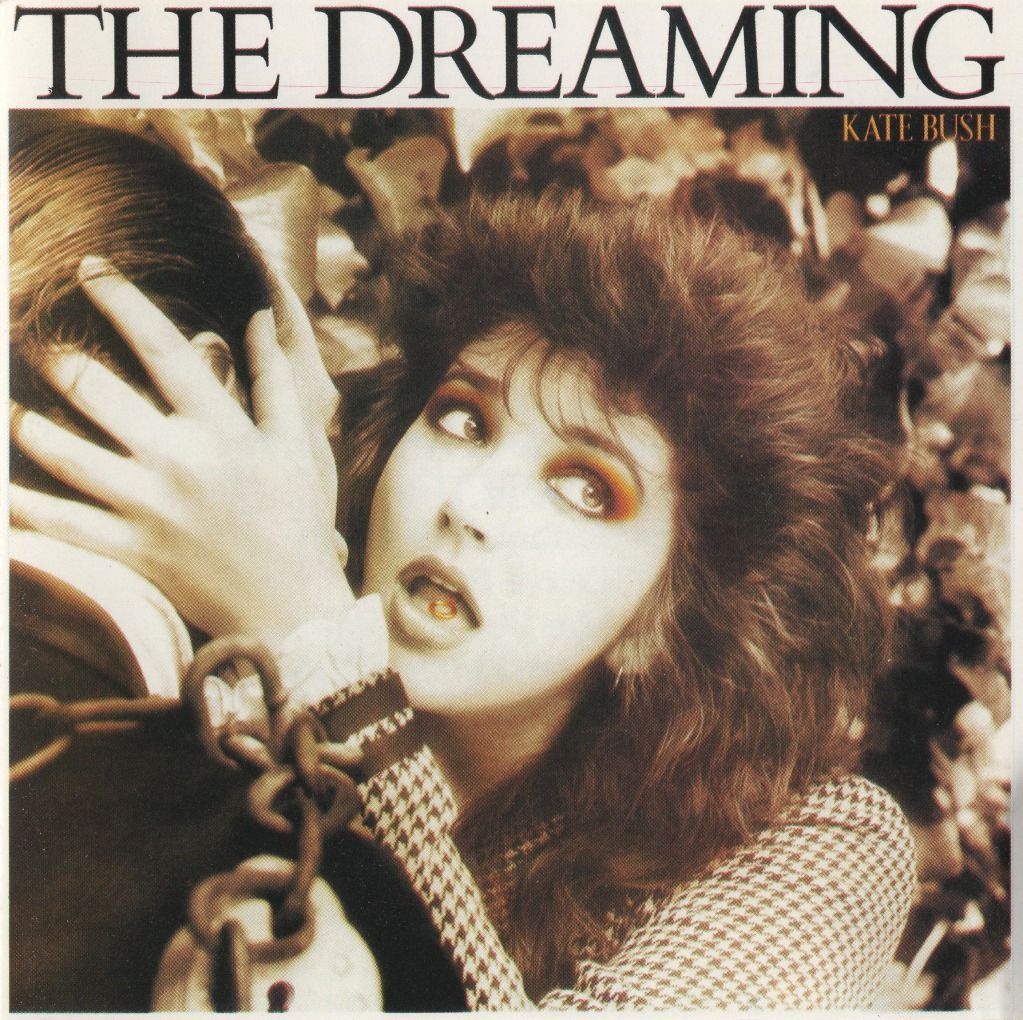 The Dreaming
--Kate Bush's fourth album, arriving less than five years after her debut--has got me thinking about a whole mess of different things. Approaching her music fairly indirectly (not having been around when the music was new [no real change there!], or being a hardcore fan, and not having much of an interest in 80's pop music) made for slow progress in appreciating it, but a couple of years have provided an enlightening and broadening experience in getting to know and learn from this music.
While I agree with most fans that
Hounds of Love
is her most distinctive and cohesive set, this album makes a close second for many of the same reasons. Partially fulfilling her move toward tighter pop structures and chic sounds of the day, the songs here continue to move away from the more traditional (especially piano-dominated) instrumentation of her first albums into an area where 80's synths and effects surround the songs' core piano parts and multi-part structures juxtapose wildly different styles within pop-length tracks, with Bush's multi-tracked vocals calling and responding in an often bizarre array of different vocal deliveries. Needless to say, these songs can come across as difficult to penetrate at first, a fact that's not helped by the fact that the late-80's CD reissue is in dire need of remastering, making the already-difficult songscapes even tougher to perceive because of the mediocre sound reproduction.
Nevertheless, this shit's awesome! What's especially interested me lately is the fine balance Bush strikes between weirdness, progressive and experimental complexity, and pop accessibility. When I say "
weirdness
" I mean things like singing in a weird voice (like those shrill backing vocals that nobody else has really done the same way), laying a really strange-sounding effect on a guitar line, or singing Australian narratives and utilizing native Australian instruments. Weirdness is a great attention-getter, and is a great way to make music distinctive and set it apart from the vast pack of musicians out there just trying to make something that sounds pretty and inoffensive in hopes that it'll appeal to the largest audience possible. However, weirdness alone isn't enough to keep my attention long-term. Really, the lukewarm feelings I get from a lot of today's music come from a feeling that
weirdness
and style often outweigh the actual content of the songs, music, lyrics etc. Not that every artist should be changing time signatures every two measures and shredding ridiculously difficult guitar parts for music to be considered good, but there's more to making some distinctive music than singing a tired indie breakup song in an overwrought plaintive voice over eighth-note staccato power chords.
What I love about Kate Bush is how well she backs up her weirdness with musical substance--every song has a discreet feel, be it narrative or more philosophical, and upon close examination it seems that every element of the song is carefully tailored to fulfill the song's conceptual promise, from playfully poetic lyrics to song sections that brilliantly channel Bush's twisting moods with shifting timbres and pacing (see "
Pull Out the Pin
," "
Night of the Swallow
") to vastly differing stylistic experiments between pounding, expansive rock like "
Sat In Your Lap
" and waltzing existential pop like "
Suspended in Gaffa
."
Finally, I'm continually amazed by how poppy the music ultimately is--in spite of the fact that she's often reimagining and further developing a lot of concepts explored by then-and-now-villified progressive musicians when the genre was all but completely forced from mainstream interest, Bush manages to maintain a pure, sincere emotional core along with a buoyant conciseness that makes these songs accessible in spite of their complexity. Even more, she's still making new fans 30 years later in spite of the extreme 80's vibe, although that's a retro aesthetic that's still currently regarded as "ok" with today's young music fans. I'm sure it doesn't hurt that her visual aesthetic pretty much rivaled her musical one--if only today's pop songstresses could back up their audacious imagery with such equally challenging music! Anyway, good on KB for proving that great pop doesn't have to skimp on nuance, and for helping me expand into some new musical areas. This makes me want to check out some of her more recent work...
Get it here.